Capturing carbon for Australia's net zero goals
As the world seeks to reach net zero emissions by 2050, a technology called carbon capture utilisation and storage (CCUS) will be essential, according to the International Energy Agency (IEA).
CCUS is basically the gas extraction process in reverse — trapping the emissions in deep geological formations, often in former gas fields, to protect the environment.
The IEA says global CCUS facilities will have to increase their capacity by up to 190 times, from the current level of 45 million tonnes of CO2 each year, to as much as 7.6 gigatonnes per year in 2050.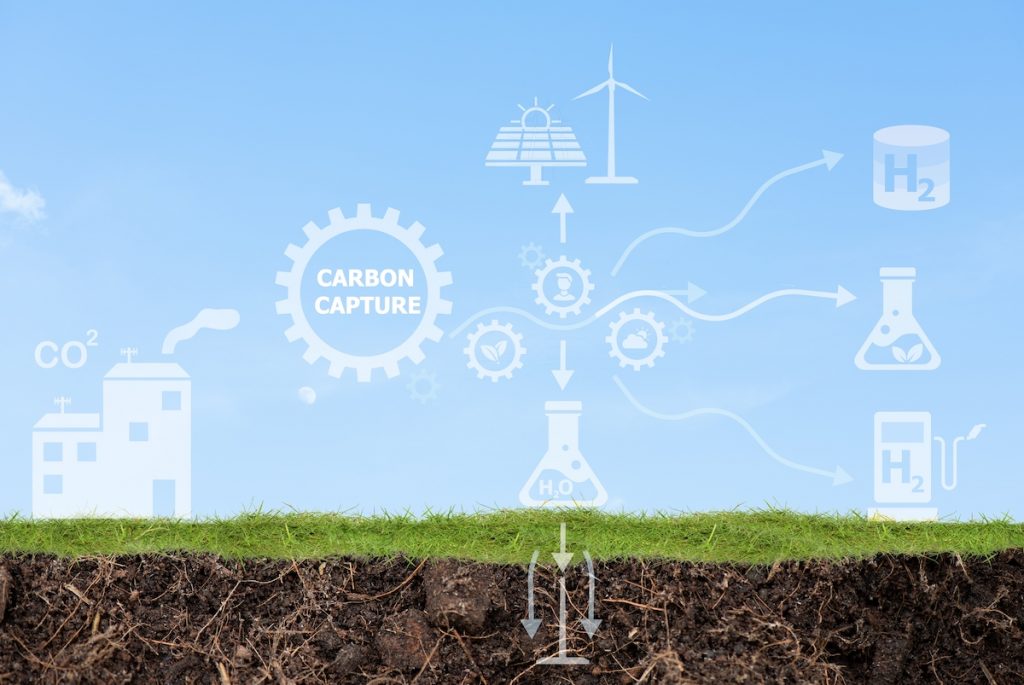 Australia's role
Australia will play a key role in this – in fact, we already are. We have one fully operational CCUS project in Western Australia (Gorgon) and in 2024 we will have another in South Australia (Moomba).
Gorgon has stored more than 8 million tonnes of CO2 2km below the Earth's surface since 2019 and will continue to build on that amount through to 2050.
Once Moomba comes online, it's expected to store 1.7 million tonnes of CO2 each year – the equivalent of taking off the road more than 700,000 cars driving 15,000 km per year.*
Plus there's the CO2CRC Otway International Test Centre in Victoria which has been operating Australia's key CCUS research and demonstration injection and monitoring facility near Port Campbell, in the Otway Basin for more than 15 years. It's essentially a testing ground for companies seeking to embark on their own CCUS projects.
Let's take a closer look at some of the bigger CCUS projects in various stages of progress in Australia.
Projects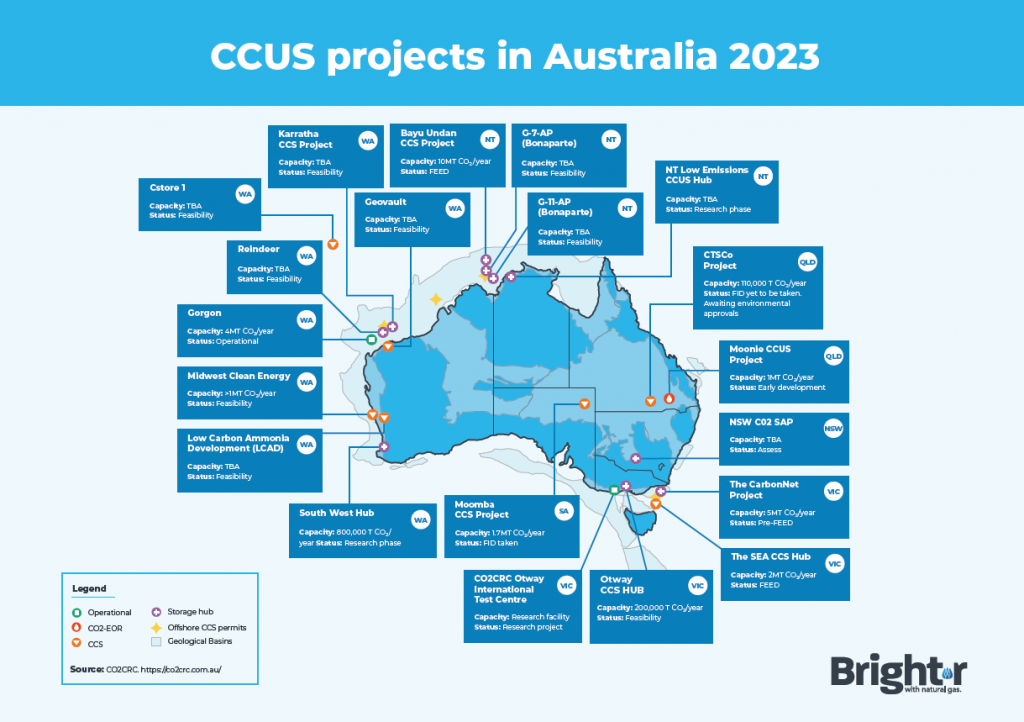 The Bayu-Undan CCUS project is located offshore Timor-Leste and will use the infrastructure from the depleted reservoirs of the former Bayu-Undan gas-liquids field. It will allow Darwin to become an important regional hub for CO2 capture, transfer and storage to the Bayu-Undan field as well as to other potential CCUS locations offshore the Northern Territory. It's at the front-end engineering and design (FEED) phase and a final investment decision (FID) is expected in 2025.
At the other end of the country, the CarbonNet Project will transport and store up to 6 Mt of CO2 per year once fully operational. Instead of using a former hydrocarbon reservoir however, CarbonNet will instead inject CO2 into a large, dome-shaped geological structure beneath the seabed 20 km off the Victorian coast. FID is planned for 2024, and the project is scheduled to be operational by 2027.
Up in Queensland, the Carbon Transport and Storage Corporation (CTSCo) Project aims to conduct CCUS on a demonstration scale at first and if successful, on an industrial scale. It will capture CO2 from a coal-fired power station in Queensland and test the feasibility of storage by injecting the captured CO2 deep underground in the Surat Basin. It's currently receiving environmental approvals and is scheduled to start testing in 2026.
Over to the west, the Western Australian Department of Mines, Industry Regulation and Safety (DMIRS) is leading the South West Hub, which is investigating the feasibility of storing industrially generated CO2 deep underground in the Lesueur Sandstone formation. The project aims to inject 800,000 tonnes per annum for up to 30 years.
There are at least 11 other CCUS projects across the country proceeding through pre-development (including research or feasibility) phases:
Petrel CCS (NT)
Moonie CCUS Project (Qld)
NSW CO2 SAP (NSW)
The CarbonNet Project (VIC)
The Sea CCS Hub (VIC)
Low Carbon Ammonia Development (WA)
Midwest Blue H2 (WA)
Reindeer (WA)
DeepCstore1 (WA)
Karratha CCS Project (WA)
Carnarvon Basin (WA)
Today CCUS is already helping to reduce our emissions and it's going to be increasingly important as we pursue our net zero goals.
With our geology, infrastructure and technical expertise, Australia has the ideal conditions to lower emissions across a range of industries and potentially establish regional carbon management hubs across the country to become a world leader in this technology.
*The average light vehicle releases about 150 grams of CO2 for every kilometre travelled. This equals 1.5 tonnes for every 10,000 km driven, or 2.25t per 15,000km.
Explore