Thai-Style Red Curry – The Chef's Secret Season Three
Have you ever wanted to be the person on your block that has the neighbours wondering where the delicious smell is coming from? Do we have a recipe for you!
A home cooked curry is culinary comfort. The only problem? Time.
It can be finicky to get a quality curry on the table, and after a day at work, who has the energy?
Fear not, Adrian Richardson's two-pot method matched with a natural gas stove will get this Thai-style chicken red curry on the table at top speed.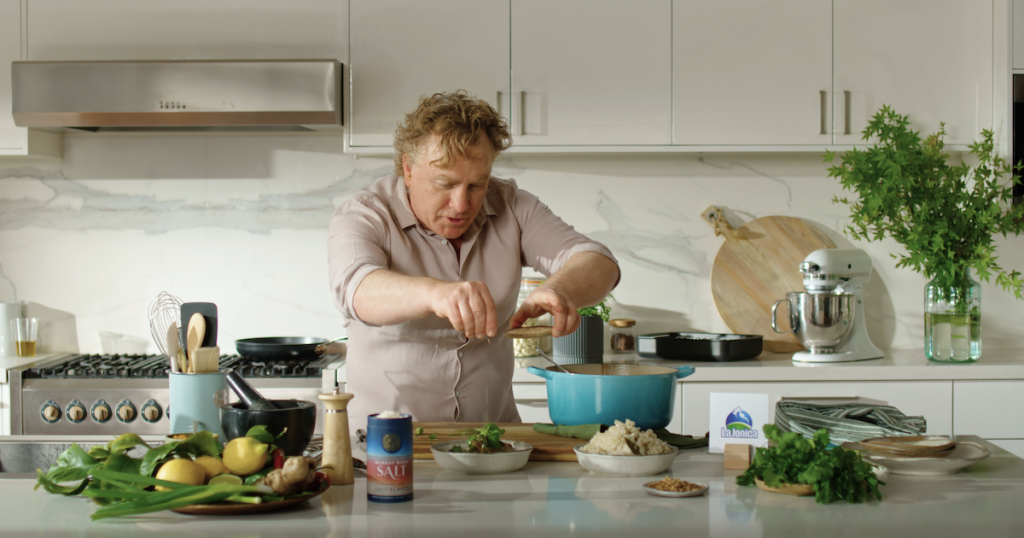 This delicious recipe showcases the use of high heat to brown and caramelise and medium heat to cook and bring the flavours together and very low heat to cook the curry and rice slowly.
Thai-style red curry chicken ingredients
For the chicken
6 x Chicken thigh chops, skin on & bone-in
2 teaspoons curry powder
Salt
Pepper
3 Tablespoons Olive Oil
For the curry
3 Tablespoons Olive Oil
½ red onion, peeled & sliced
½ red chilli, deseeded & chopped
½ green chilli, deseeded & chopped
3 cloves garlic, sliced
1 large knob ginger, peeled & finely sliced
2 lime leaves
2 teaspoons Ayam Red curry paste
2 Tablespoons Ayam Light soy
270ml Ayam coconut cream
500ml chicken stock
300 gms Green beans, roughly chopped
300 gms Garlic shoots, roughly chopped (optional)
2 spring onions, roughly chopped
1 Tablespoon coconut sugar
To garnish
5 sprigs coriander, roughly chopped
1 Tablespoon toasted sesame seeds
2 Tablespoons, deep-fried shallots
Method
Grab a frying pan and a heavy based medium-sized pot
Season the chicken with salt, pepper and curry powder, making sure to cover both sides of the chicken.
Over a medium heat add the olive oil and chicken to the pan, turn the chicken, and gently sear until golden brown and crispy.
In a heavy-based pot, over a medium heat add the ginger, garlic, chilli, lime leaves into the pot & stir until it softens.
Add Ayam curry paste and stir thru for 2 to 3 minutes.
Add the soy, coconut cream & stock.
Add the chicken to the curry pot. Make sure you pop all of the oil, after 2 to 3 minutes add the beans, garlic shoots & spring onion, then add the coconut sugar & stir thru.
Turn the heat down & cook over a gentle heat for 20 minutes, when the chicken is cooked through serve.
Garnish with coriander, sesame seeds & fried shallots.
Serve with steamed rice.
Serves 4 to 6.
Explore