The Chef's Secret: Season Two – Sizzling Sides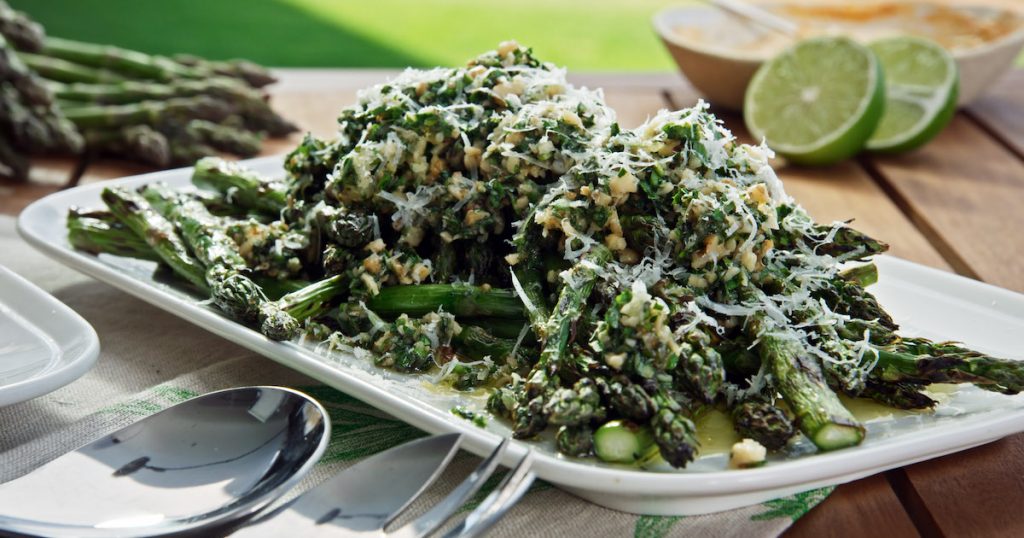 Sides elevate a dish from delicious dinner to memorable meal. Capable of taking a well cooked piece of protein to a whole new level, well executed sides are often overlooked and sometimes undercooked.
Armed with his trusty gas BBQ and a handful of ingredients, Adrian Richardson puts the finishing touches on the final episode of The Chef's Secret Season Two with a duo of sides.
Sizzling up a signature Mexican Cauliflower, and going one better with an Asparagus and Pesto.
Match these to last week's Wagyu, and your guest's jaws will be dropping (until they have to take their next bite!).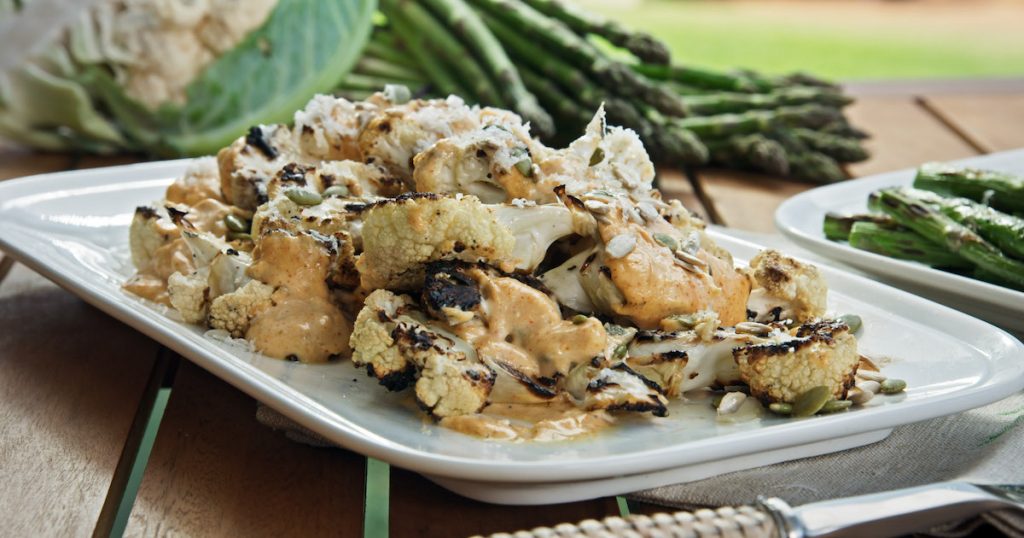 INGREDIENTS
Mexican Cauliflower
1 large head of Cauliflower, fresh
100g of Sunbeam Seed Mix
½ tsp garlic powder
2tsp Lime juice
¼ cup of S&W Mayonnaise
¾ tsp chilli powder
¼ tsp paprika
¾ tsp salt
3tbsp Squeaky Gate All Rounder Olive Oil
¼ tsp cumin
⅓ cup of sour cream
Mild Goats cheese for garnish
Asparagus and Pesto
6 bunches of asparagus, medium to large size
2 bunches of basil
300g Sunbeam Walnuts
200 gm parmesan
Squeaky Gate All Rounder Olive Oil
3 cloves of garlic
1 bunch of parsley
METHOD:
Mexican Cauliflower
Preheat BBQ to low heat, so the cauliflower cooks evenly.
Slice cauliflower into large steaks (2-3cm thick).
Drizzle with olive oil and add salt and pepper to taste.
Place cauliflower on grill.
While the cauliflower is cooking, in a small bowl combine ginger, cayenne pepper, cumin, smoked paprika, garlic powder, mayonnaise, sour cream, lime juice and salt and pepper. Stir until blended.
Cook the cauliflower for 5 minutes and flip. Cook for a few more minutes and remove from heat.
Asparagus and Pesto
Before cooking the asparagus, make the pesto.
In a small bowl combine crushed walnuts, parsley, garlic, basil, parmesan cheese, salt and pepper and extra virgin olive oil. Stir until blended
Put the asparagus on a tray and add a small drizzle of olive oil. Add salt and pepper to taste. Use your hands to make coat the asparagus.
Put the asparagus on the grill and use tongs to flip. After 2-4 minutes, remove the asparagus from the heat.
TO SERVE
Put the cauliflower and asparagus on separate serving plates.
Spoon the mayonnaise dressing onto the cauliflower and drizzle extra virgin olive oil on top. Sprinkle pepitas and grate mild goats cheese on top to serve.
For the asparagus, spoon the pesto mixture on top of the asparagus and grate parmesan on top.
Explore