A chat with In.Site Awards 'Community' winner Shannon Hemmings
The In.Site Photographic Competition seeks to capture the unique beauty of the environments, communities and people that both surround the natural gas industry and make it possible.
The natural gas industry plays a vital role in powering Australia. The competition showcases the strong and constantly growing relationship between the industry and the areas it operates in through photography. A celebration of community and industry achievement.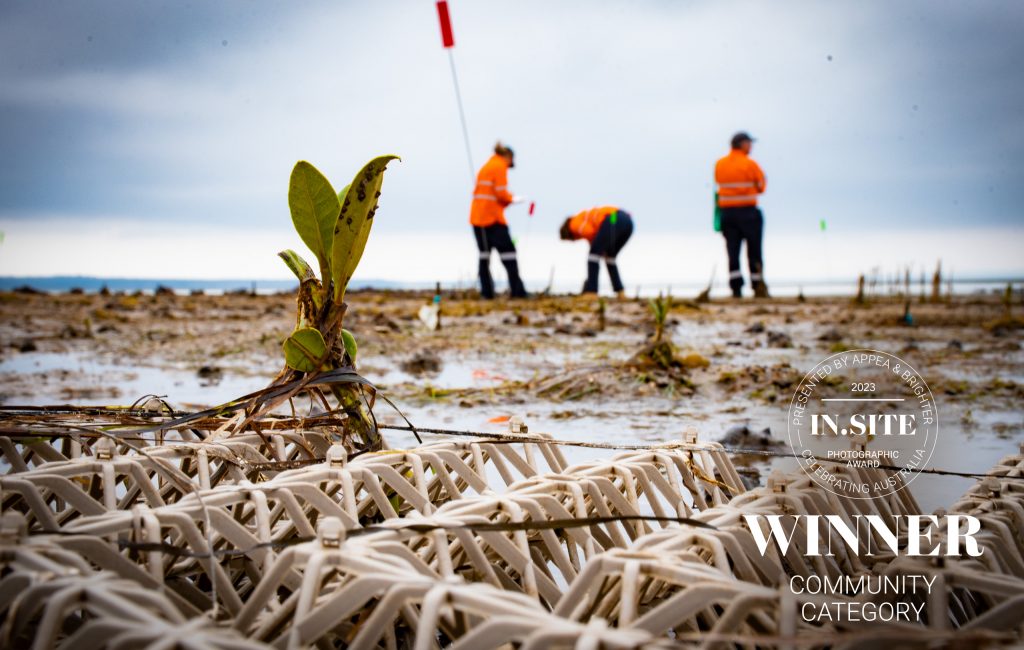 See the full gallery of In.Site 2023 submissions here.
Shannon Hemmings, a graphic designer at Beach Energy in South Australia, won the Community Award for her photo of colleagues measuring mangrove seedlings growth in biodegradable lattice structures at Corinella in Victoria.
The image is titled: 'Blue carbon partnership'.
Beach Energy has entered into a three-year partnership with Deakin University's Blue Carbon Lab, to help restore some of Australia's critical coastal wetlands.
Ms Hemmings accompanied a group from Beach Energy to see the Blue Carbon Lab innovative program in action.
"This was a great opportunity for staff to get their hands dirty and learn from the Blue Carbon Lab scientists about the differences of blue and green carbon and the impact it has on our environment," she said.
"I took this photo from a ground level perspective as I wanted to get as close to the living mangrove plant showing perspective of how tiny the plant is, together with the complexity of the 3D printed potato starch structure that will help it establish."
"Sustainability is a subject I am passionate about and I felt humbled to be asked to be involved in the day. To be involved in planting as part of a regeneration project in the community, had a very humbling effect on me."
See the full gallery of In.Site 2023 submissions here.
Explore