The Chef's Secret Season Two: BBQ Banana Split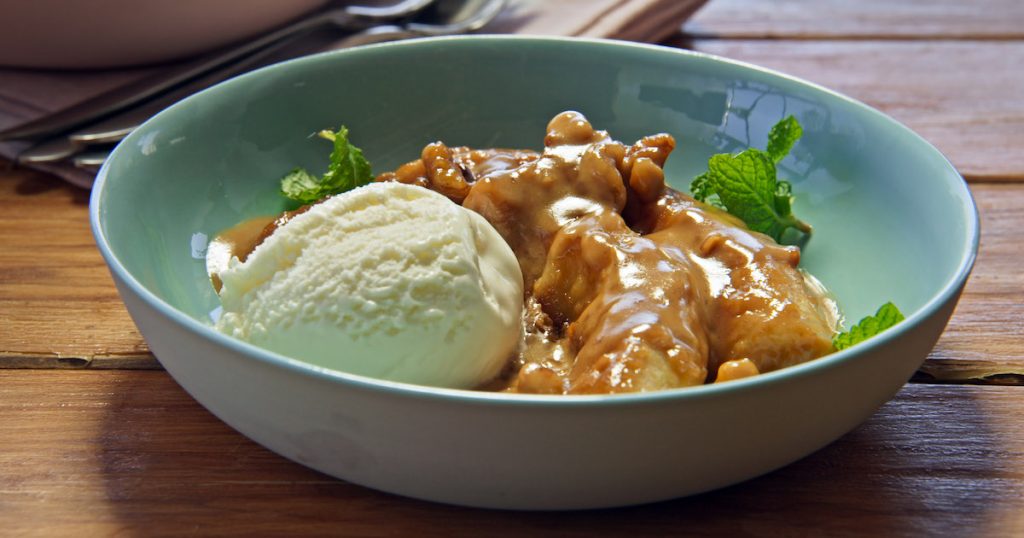 In this bonus episode of The Chef's Secret, Adrian Richardson went bananas. Cooking up his favourite dessert on the BBQ, this is not your grandma's banana split.
Hot and sticky, this gas BBQ fired dessert is packed with peanut butter and riddled with rum.
An homage to Queensland's world class produce, this twisted treat will transform your cheat day.
Keen to check Adrian's secret to a six other sizzling recipes? Click here to binge the whole series!
BBQ Peanut Butter Banana Split
INGREDIENTS
8 large ripe bananas, peeled
150g butter
¼ cup Tablespoons Bega Crunchy Peanut Butter
½ cup CSR Organic Coconut Sugar
2 teaspoons vanilla essence
½  cup Bundaberg rum
¼ cup Cream
Vanilla ice cream
1 cup walnuts, broken
METHOD
Heat up the BBQ to a medium heat
Gently heat frypan fry pan on the flat grill
Melt the butter & peanut butter, using the back of a spoon to break up the peanut butter.
Add the bananas to the pan, and warm gently for 2 to 3 mins
Turn bananas over
Add the cream and swirl pan until all is combined, 2 to 3 mins
Gently place bananas on a plate cover with sauce
Serve with vanilla ice cream, crumble the walnuts over the top.
Explore