The Chef's Secret: Season Two – BBQ Fish and Chips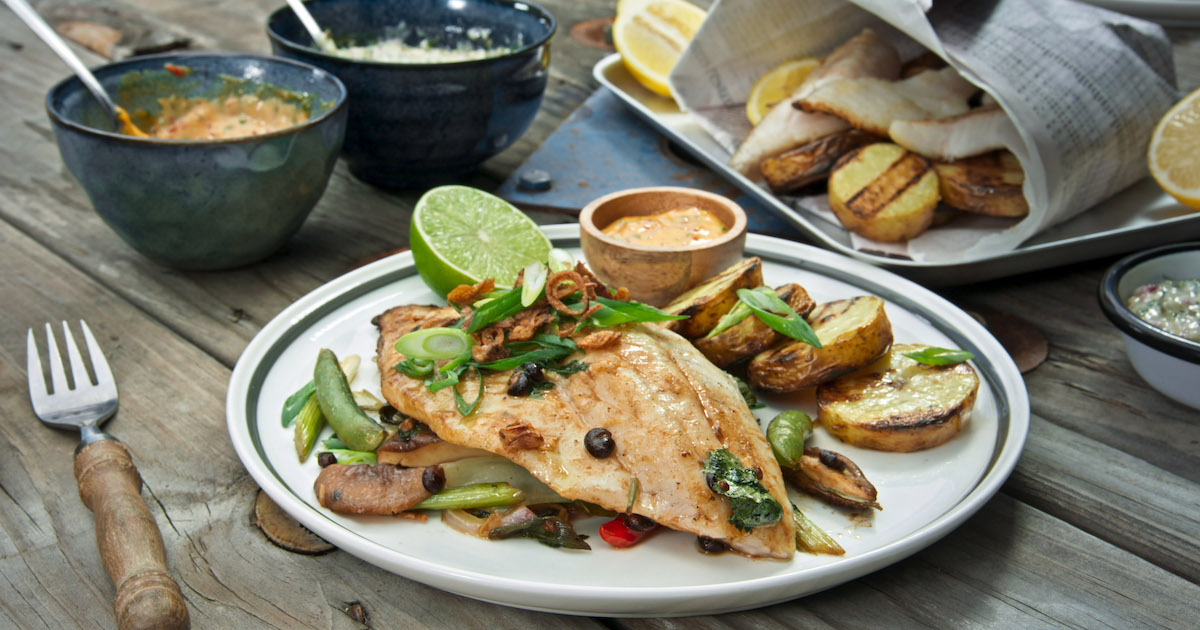 The Chef's Secret Season Two kicks off in summer style! Sizzle up something a bit special as Celebrity chef Adrian Richardson shares his secret to the ultimate BBQ fish and chips.
INGREDIENTS
Fish
2 fillets of Condabilla Murray Cod, skin removed
1 sheet of Glad baking paper
Black Bean Marinade for the fish and vegetables
2 Tablespoon AYAM Low Sodium Soy
2 Tablespoons AYAM Black Bean Sauce
2 Tablespoons AYAM Hoisin Sauce
1 teaspoon Black beans, fermented (optional)
1 teaspoon ginger, finely chopped
1 clove garlic, finely sliced
¼ bunch coriander (leaves only) finely chopped
Juice of 1 lime
¼ cup Squeaky Gate All Rounder Olive Oil
Sriracha Mayonnaise
½ cup S&W Mayonnaise
Fresh long red chilli, seeds removed, finely diced
Chives, finely sliced
1 Tablespoon AYAM Sriracha Chili Sauce (you can add more if you like it hotter)
½ teaspoon CSR Dark Brown Sugar
Tartare Mayonnaise
½ cup S&W Mayonnaise
2 tab chives finely diced
¼ red onion, finely diced
Parsley, finely diced
Gherkins, finely diced
Potato Chips
500g of russet potatoes (par cooked, skin on) cut into large chips or rounds (skin on)
1/2 cup of Squeaky Gate All Rounder Olive Oil
Salt & pepper to taste
Garnish
2 tbsp deep fried shallots
2 tbsp toasted sesame seeds
Vegetables
1 red onion , finely sliced
2 cloves Garlic, sliced
2 tab Ginger, chopped
250gm Shiitake mushrooms, sliced in 1/4
300gm Bok Choi, washed and sliced, into strips
200gm snow peas, sliced in ½
200 gm Sugar snaps
1 b Coriander, washed thoroughly and chopped
½ b spring onion, sliced
Salt & pepper
METHOD
Black Bean Marinade
Pull all ingredients in small bowl and stir until well combined.
Refrigerate until ready to serve.
Sriracha Mayonnaise
Combine all of the ingredients in a small bowl.
Refrigerate until ready to serve.
Tartare Mayonnaise
Combine all of the ingredients in a small bowl.
Refrigerate until ready to serve.
Murray Cod
Heat the grill plate to a medium heat
Place Murray Cod fillets on Glad baking paper.
Season with salt and pepper to taste, then drizzle olive oil over the fillets and turn over. Put to side.
When the vegetables are almost ready, slide the Murray Cod onto the grill with the baking paper beneath it.
Baste with black bean marinade while fish is cooking
Cook for 6-7 minutes total or until fish is opaque.
Keep in mind that a thicker piece of fish may take a little longer to cook
BBQ Potato Chips
To par cook the potatoes, place them in a large pot and cover with cold water
Bring to the boil over a medium heat
When the potatoes start to boil turn off the heat and allow the potatoes to cool down in the water
Drain off water and keep cool until ready to use
Set BBQ to a medium heat
Slice potatoes 2 cm thick (I like them chunky)
Season with salt pepper and extra virgin olive oil
Put potatoes on BBQ.
Allow potatoes to cook 2-3 minutes on each side until golden and crispy
 Vegetables
Place frypan on gas barbecue over a medium to high heat, drizzle Squeaky Gate All Rounder Olive Oil into pan and once hot, put all the vegetables in the frypan.
Toss the vegetables in the frypan, adding salt to taste and 2 tablespoons of the Black Bean Marinade.
Saute for 2 to 3 mins until vegetables are soft but still green and crunchy
To Serve
Place potato chips, vegetables and Murray Cod on plate
Top with deep fried shallots and toasted sesame seeds.
Serve with tartare mayonnaise and Sriracha mayonnaise.
Explore