The Chef's Secret: Season Two – Chimichurri Wagyu & Beef Tataki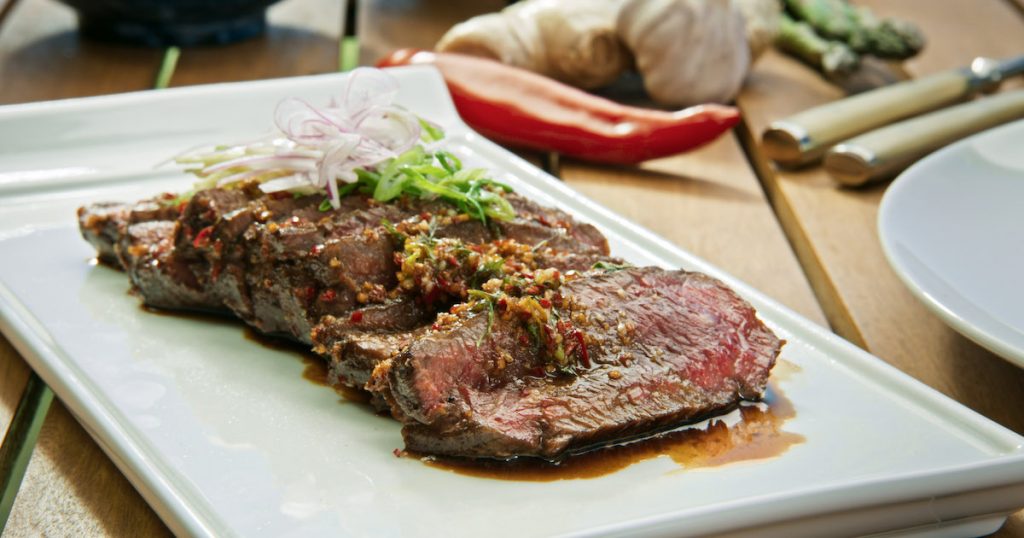 Live from Clifford Park Racecourse in Toowoomba, Adrian Richardson has been gifted a cube of award winning Mort & Co Wagyu beef.
With the pressure of creating a dish that does this world-beating beef justice, Adrian splits the deck and deliver a tangy Argentinean style chimichurri steak, along with a succulent beef tataki that honours the Japanese roots of the Wagyu beef tradition.
Giving away a few secrets that could be the difference between a perfect cook and a missed attempt, this is an episode you need to watch!
INGREDIENTS:
Steak with Chimichurri
500g Wagyu beef cube roll
600mL Extra Virgin Olive Oil
300g green olives, pitted
1 bunch parsley, chopped
1 bunch chives, chopped
3 lemons
300g of pickled onions
100g lilliput capers
1 clove garlic
Beef Tataki:
500g trimmed Wagyu beef cube roll
2tbsp Ayam Sesame Oil
2tbsp ground sesame seeds
3tbsp Squeaky Gate All Rounder Olive Oil
2tbsp hot chili, finely diced
3 spring onion, finely chopped
¼ cup Ayam Sweet Soy/Kecap Manis
2tbsp ginger, grated
Sherry Vinegar
METHOD:
Chimichurri
Combine chives, parsley, pitted green olives, pickled onions, capers olive oil, lemon and pepper into a small mixing bowl. 
Tataki Sauce:
Combine ground sesame seeds, ginger, spring onion, red chilli, sherry vinegar, sesame oil, kecap manis and pepper in a small bowl.
The Wagyu
Trim any excess fat off the pieces of Wagyu.
Sprinkle both cuts of Wagyu with salt and pepper on both sides.
Use olive oil or a small fat trimming from the Wagyu to lubricate the grill for cooking.
Place both cuts of Wagyu on the hot plate and cook to desired level.
Let rest for 5 minutes.
To serve:
Slice one piece of the Wagyu and put onto a plate. Spoon the chimichurri over it to serve.
While plating the Chimichurri Wagyu, drizzle the tataki marinade over the other piece of beef so it soaks into the beef as it cools. When ready to serve, slice and plate and top with more tataki sauce and salt.
Explore