Brennan O'Connell is a PhD student with the University of Melbourne who is originally from the United States. She is the 2018 recipient of APPEA's Tony Noon Memorial Scholarship for her research on characterising the evolution of paralic tidal deposits.
During my studies in the US, it was rocks that bowled me over…
I was planning to be a physical therapist but rocks won me over during my last year of university. We can get snapshots of Earth's evolutionary history by using the rock record.
For my PhD I've focused on studying 800–650 million-year-old nearshore environments, including reefs, barrier islands, and tidal flats. These environments, before animals or plants had evolved, were different from modern environments. Although the same processes were at play, microbial mats instead of corals comprised ancient reefs, and barrier islands and tidal flats were not covered in plants like our modern nearshore environments. The most interesting part of my PhD is to think about a world before complex animals or plants evolved.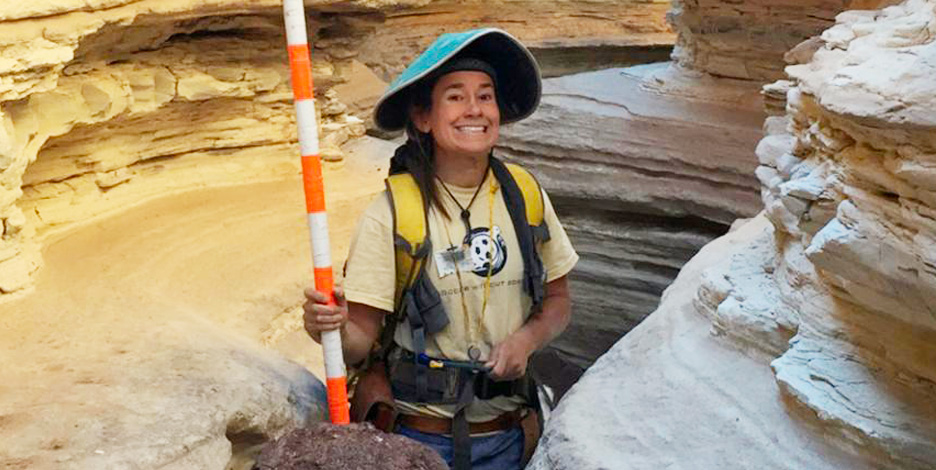 It's not only rocks you can discover while out in the field.
When in the Yukon Territory in Canada, I got chased out of the field by grizzly bears!"
Australia is perfect place to combine work and living
If I decide to work in oil and gas I can still live in Australia's coolest cities.  Here, unlike other countries, job location with a geology degree is not a concern.
When I am not studying…
I compete in Olympic weightlifting and train with Hawthorne Weightlifting Club and the Elite Athlete Program at Melbourne University. I started weightlifting approximately four years ago.
I originally got involved in the sport through offseason training for college soccer in the US. Weightlifting is a great sport for women. It builds resilience and confidence which transfers over into all aspects of life, including my PhD work. I am also a volunteer coach for Melbourne University Women's Soccer.

More Bright Sparks
Sarah's Story
Rob's Story
Melanie's Story
Ben's Story
Ishtar's Story