The Blue Economy: Quick Explainer
The Australian Blue Economy is worth $81.2 billion. That figure alone means it must be important.
So, what is it? A hint: 'Blue' is a reference to the colour of the ocean.
The World Bank's definition says the Blue Economy refers to the sustainable use of ocean resources for energy, fishing, mobility, tourism and waste management. These activities and others support economic growth, improved livelihoods, jobs, and ocean ecosystem health.
In fact, at $81.2 billion, the marine industry has a higher attributable economic output than coal, heavy and civil engineering construction, agriculture and primary metal and metal product manufacturing.
Marine industry: $81.2 billion
Coal: $69.7 billion
Heavy & civil engineering construction: $68.5 billion
Agriculture: $58.9 billion
Primary metal & metal product manufacturing: $53 billion
What does this have to do with natural gas? The Australian Institute of Marine Science (AIMS) published in its Index of Marine Industry that the offshore natural gas industry is the primary driver of the Blue Economy's economic output.
It contributes a staggering $30.3 billion to the Australian Blue Economy.
It's also the third highest in terms of direct employment, with 17,233 jobs directly supported by the industry.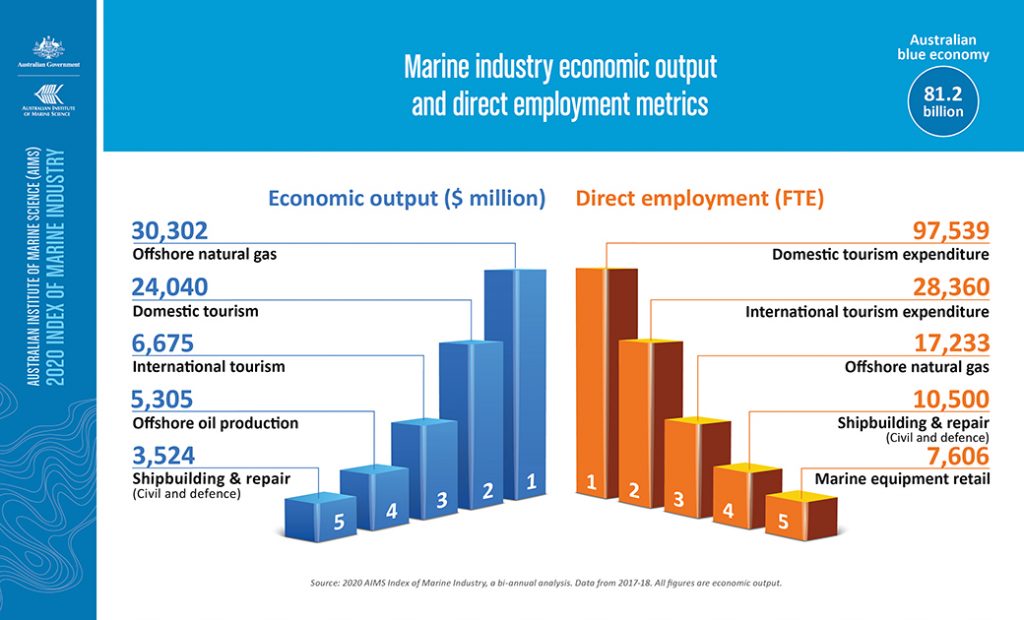 And which region of Australia is driving this contribution?
As it happens, Western Australia is the engine room of the natural gas production industry's contribution to the Blue Economy; natural gas production contributes around 85% of the national total, a tidy $25.9 billion.
Check out AIMS Index of Marine Industry for more info.
Want to dive deeper on the Blue Economy? The Blue Economy Forum kicks off at 6:45pm on February 22nd 2022. Attend online for free, at the link below.
Reserve your virtual seat: https://www.blueeconomy.gr
Explore