Democracy Sausage: All You Need to Know
The humble democracy sausage is, outside of the poll itself, one of the most integral parts of Australian politics. A big statement, we know! But, regardless of how you feel about politics or who you vote for, we can all unite around the democracy sausage.
For those uninitiated, a democracy sausage is the name given to the sausage sizzle that happens at most polling stations on election day, in which natural gas barbeques are used to cook sausages for hungry electors. Because polling places are usually schools or community centres, the money raised from the sausage sizzle goes toward funding those organisations. The democracy sausage has a long history dating back to the mid-40's and has almost always partnered with the classic gas barbeque.
During World War II premium meat was expensive, while sausages were not. Usually made up of the off-cuts from an animal, which were minced and put into a sausage skin, the classic Australian sausage was not a thing of beauty. Rather, it was a humble food type that was perfect for fundraising (cheap to buy in bulk), and was popularised by the first ever 'sausage sizzle' hosted by the Country Women's Association in 1946. As with many a working-class underdog, the humble sausage was slowly lifted to notoriety and became a staple at polling places around Australia for state and federal elections. It's now far more than cheap meat off-cuts being sold in local electorates, with a number of polling places offering vegan options as well as gourmet snacks and coffees for those who are interested.
The 2016 federal election saw the democracy sausage rise to its peak, with Twitter changing the emoji linked to #ausvotes to a sausage on a slice of bread and the Australian National Dictionary Centre crowning the term Australia's word of the year. In fact, Twitter has now made the emoji for #auspol the sausage, broadening its horizons yet again. At the time of publishing this article, there had  been 1,700 uses of the #demcracysausage tag on Twitter in the week prior.
Enough with the history lesson, here's some fast facts on the democracy sausage for the 2019 federal election.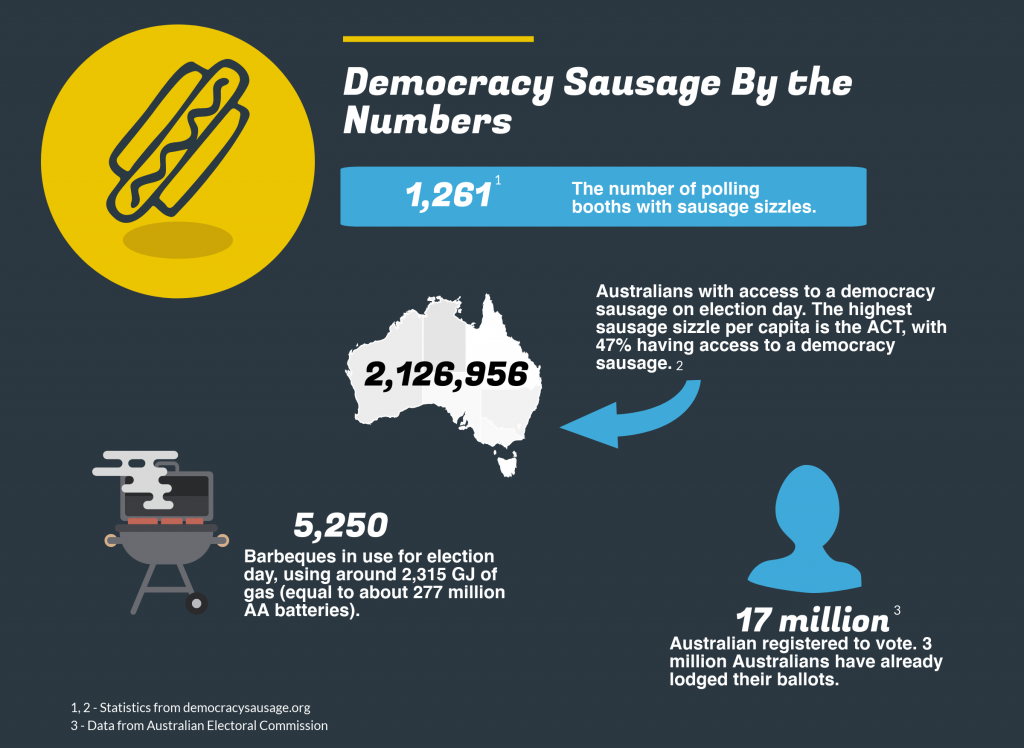 If you're like us, the sausage sizzle is incredibly important to choosing your polling place. The best way to ensure you're not left empty handed or with onions on the bottom is to use the handy Democracy Sausage website, which maps out almost all sizzles on election day.
Explore