Fire, Earth and Sea
Water flows and wends its way to the sea. This is the sacred place of our ancestors.
Ceremony by firelight keeps us connected to this land.
Over vast country the Creation Spirit forms the mountains, rivers, escarpments and valleys. We are Saltwater people connected to both land and sea.
Travelling through crystal blue waters the Spirit burrows deep within the earth's surface giving energy and life to all.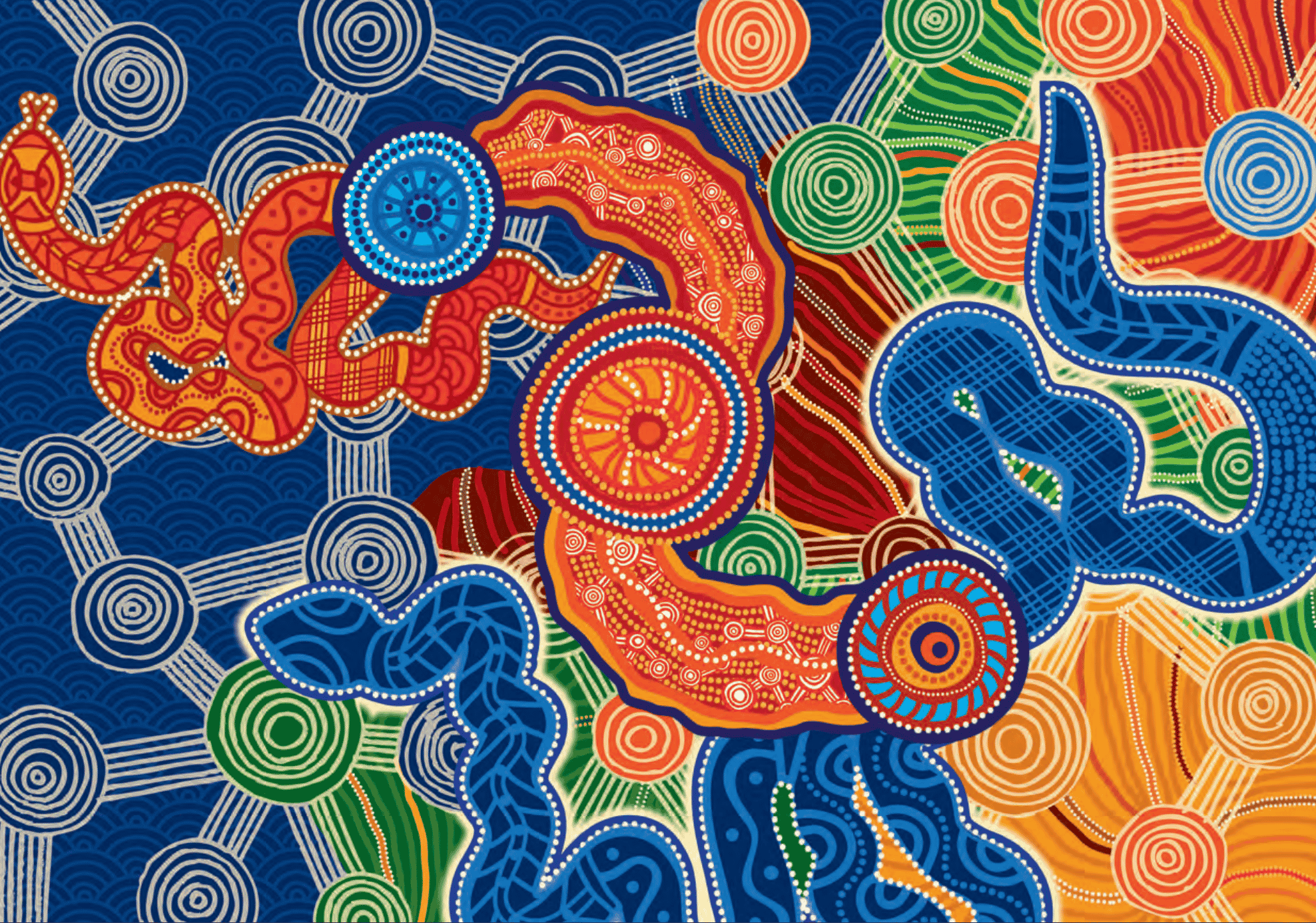 This striking artwork by Indigenous artist Riki Salam marks the commitment of the Australian gas industry to engage, recognise and respect Aboriginal and Torres Strait Islander peoples for whom the land used is significant, and to continue to build sustainable, mutually beneficial relationships based on trust.
Commissioned by INPEX, the central circle symbol represents the gas and oil rigs. The connecting lines represent energy that is provided from both gas and oil. This artwork connects both Land and Sea where INPEX work and are located throughout Australia.
The two serpents represent the Creation Spirit who created the land formations and waterways. Blue for water and red for earth and fire.
The connected lines and circles represent the many locations INPEX works in around the world, celebrates diversity within the company and shows respect and support for Aboriginal and Torres Strait Islander People within Australia and acknowledging their connection to Land and Sea.
The coloured backgrounds meanwhile represent different country from Perth, or Nyoongar Country, in the South West of Western Australia, to the red earth of the Kimberley, across to Darwin and Larrakia Country, all of which are connected to the Saltwater.
The markings of the Sea is derived from an ancient Japanese motif Seigaiha, which translates to blue ocean wave, bringing locations and cultures together.
See more by the artist at https://www.instagram.com/rikisalam27
Learn more about INPEX's reconciliation action plan here.
Explore